Understanding E-Sports Gaming & Betting
The world wide rise of E-Sports has become a phenomenon, as more and more people find out about the secret community, it continues to grow to amazing heights. Last year alone, more people watched the DOTA2 World Championship than Game 7 of the MLB World Series.
In the same year, over $315 million was wagered on E-Sports events, and experts say that if it's growth continues, that number will be closer to $20 billion in 2020. E-Sports is here to stay folks, so you might as well just on the bandwagon now while you can.
You're probably thinking, isn't it boring just watching some dudes sitting at a desk playing computer games?
It depends, if you've grown up around video games and invested a large portion of your childhood, as I have, to playing them then it's interesting to see the best of the best, making millions of dollars from the games you used to play for fun.
Games like Counter Strike: Global Offensive, DOTA 2, Halo and the Call of Duty series, all offer championships with prize pools worth millions of dollars.
If you're thinking about joining the revolution, there are a few things you need to know, I'm here to help out by breaking down some of the key elements and games involved in the E-Sports spectacle.
Twitch
Twitch.tv is a streaming service where most players will stream their live content, and it's also where most of the tournaments are streamed. On Twitch you will find someone streaming themselves playing any game you can think of, at any time of day.
When tournament time rolls around, broadcasters go all out, with studios and commentators, making it a true spectator sport.
DOTA 2
DOTA 2 is the most watched, and offers the largest prize pools out of any E-Sports franchise. While it is mostly played and consumed by an Asian market. It still doesn't discredit the fact that 30 million fans tuned into watch the World Championships last year.
Teams of five players will compete in an attempt to destroy the other teams main building, called 'The Ancient'. Each player controls a different type of character with different abilities and they aim to upgrade these abilities throughout the match by killing both opposition and enemies in the wild.
Players will try to upgrade their characters enough to be able to break through their opposition defences and destroy their Ancient. This can take some time though, with the standard DOTA 2 match going for upwards of an hour, and the longest recorded going for over three hours.
As well as H2H markets, bookmakers offer map winner, map line, total maps and more markets.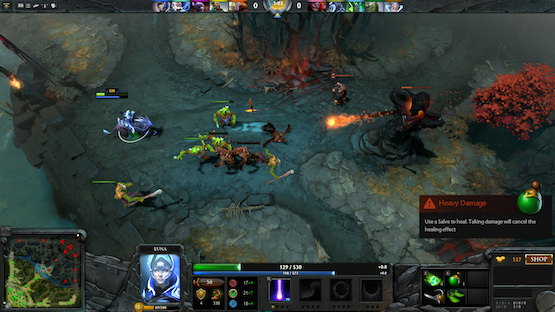 Counter Strike: Global Offensive
Counter Strike is one of the oldest first person shooters on PC, released in 2000, the franchise is on their sixth iteration of the game. In the game, the terrorist side face off against the counter-terrorist side in a 5v5 search and destroy format.
The terrorists will attempt to plant the bomb at one of two sites on the map and/or kill all opposing forces in an allocated time limit, if they fail to do so, or die in the process, the counter terrorists win.
Once the bomb is planted, the terrorist will then need to stop it from being disarmed by the counter terrorists until it goes off to win, simple right?
Teams will play to 16 round wins, swapping 'sides' after 15 total rounds. The way in which you can purchase different guns throughout the game is also based on a currency system, the more kills you get and rounds you win, the more money you get to buy guns and equipment in the following rounds.
If you are able to avoid death, you also carry over whatever you have into the next round.
There are different CS:GO tournaments on around the world essentially every night of the week, and online bookmakers offer markets such as H2H, map winner, map line, round line, correct map score and some of the bigger tournaments will the well known players will even offer player total kills lines.
Call of Duty
A new Call of Duty game is released every year, giving the franchise what are essentially 'seasons'. Once a new game comes out, players will have a few months to learn and practice before the tournaments begin.
The American league is one of the most popular in all of E-Sports, teams will compete weekly from their home in an ongoing season type tournament, while also having scheduled LAN tournaments that run over a weekend in different major cities scattered throughout the year.
It all climaxes at the Call of Duty Championships, ran by game creators Activision, they introduce the upcoming game as well as crowning the current games champions.
Teams of four will compete in an array of different game types with different objectives, usually running a best of 7 maps, each map with a different game type and objective. If you're a fan of colourful personalities and a bit more of a relaxed type of viewing and commentating, than this is the E-Sport for you.
Chances are you've probably played Call of Duty or have a friend who has the game, so it is generally the easiest to understand and the easiest to watch.
While bookmakers usually only offer markets when LAN tournaments roll around, when they do, they offer markets such as total maps, map line, and my favourite, the player performance markets. If you need anymore convincing, look no further than this…
Save
Save
Save
Save